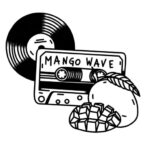 Guest Feature by Dmitriy Churilov
Want to advertise on MangoWave?
Send an e-mail to raphael@mangowave-magazine.com
---
TheWave – Now, what is it all about?
| | |
| --- | --- |
| April 13, 2023 | Independent |
| Album | Digital | 36:13 | 9 tracks |
| Alternative Rock / Grunge | Switzerland |
2023 marks the era of AI-generated music and mass-marketed hip-hop reign. The idea of music being a means of healing and pouring one's soul out is slowly decaying in value, both aesthetically and economically. Still, some artists resort to it the old-school way of recording songs driven by the inner urge to share personal struggles and its therapeutical value, rather than generating income and amassing a big online following. Now, what is it all about? This question becomes the name of the newest album of a Swiss singer-songwriter TheWave, who represents the camp of outsider music and rock'n'roll outcasts.
More than an image, the lo-fi production and overall amateur feel of this release is the result of clinically diagnosed depression of the person behind the song; the album is packed to the brim with that real feeling of alienation, loneliness, and despair. Illustrating the classic saying
crying wolf is the real danger
TheWave has been extremely productive in the last couple of years. Now his sound is completely defined – with raw production quality, naive and deeply personal lyrics, and jumpy guitar riffs.
On the Floor (48 hours) opens the album with a classic grunge vibe, built around a slow eerie riff and weird timings. This song makes an impression of a confession being pretty vocal-centric.
Off to War makes a surprising transition to number reminiscent of Talking Heads and Polvo, featuring softer humming singing and quasi-major guitar. The second half of the song shows off an impressive riff development that could remind one of The Wipers approach.
Pal is a poppier song, a self-relecting passage on battling addiction, that contains an edgy chorus about "fucking anyway" tackling a widespread challenge of trying to quit just to find out being powerless and destructive to everyone around. Pal is a more accessible/positive track musically, but still rather dark in the aspect of confusion drawn by the inability to cope with constant urge and hopelessness.
What would you expect from a song called Damaging Place Called Hell? Anyway, what you are getting is an homage to The Minutemen, still detailed with TheWave's peculiar vocal (kind of Hüsker Dü-ish).
Decoupled continues with a heavier riff closer to such acts as Jawbreaker and Mudhoney, with just a pinch of heavy metal in the mix. The song explores the topic of isolation and cutting ties with everyone around as the result of feeling like a burden to the whole world. And that melody is a real earworm too.
With the next song Fever Dreams, TheWave explores more of the post-punk territories, with stronger eastern european influences. This one features a massive buildup in the second half to show off the guitar skill and style. Still, this sounds more like a filler.
And now we are closing in on a real highlight of the album, Cadgers. This one is a really rhythmical piece of avante rock, with fast-slow paces mixed in one trippy jam. The thing that stands out the most is the chattering vocals. All in all, it sounds like something Don Caballero could have recorded on a rainy day in Switzerland.
Whatever, However is a simpler punk tune, with a lighter sound and naughty lyrics. After Cadgers, this one passes mostly unnoticed really, further exploring the trend to develop the melody in the closing part.
And here it is, the classic closing "ballad', Moments of Silence. It really has that bedroom record charm that goes perfectly with amateur production and naive singing. Mostly acoustic (even more than the whole album on average), Moments of Silence improves the classic rock formula and ends this record on a sad note and a hope for a better tomorrow, that grows from the bliss of solitude.
Now, what is it all about is an exceptional example of an album, too wild to live, too rare to die. TheWave captures the fleeing sense of intimacy and honesty that is truly rare to achieve.
Text by Dmitriy Churilov