Want to advertise on MangoWave?
Send an e-mail to raphael@mangowave-magazine.com
---
JeGong – The Complex Inbetween
| | |
| --- | --- |
| June 23, 2023 | Pelagic Records |
| Album | Vinyl/Digital | 45:10 | 8 tracks |
| Ambient / Krautrock | Bern, Switzerland |
Gliding Past Expectations
When in October 2020, Dahm Majuri Cipolla (Watter / MONO) and Reto Mäder (Ural Umbo / Sum of R) released their first longplayer I via Pelagic Records, the sophomore's name seemed to have been carved in stone already. Fortunately, progression and transition are not always linear, and especially when it comes to demanding or sophisticated arts, the unexpected shall always be among our expectations. And thus, here we are, experiencing the next evolutionary stage of JeGong: this is The Complex Inbetween.
Where Time and Space curl
Listening to The Complex Inbetween is like entering an elevator which is obviously the gateway to another dimension. Nevertheless, this album does not reveal what is on the other side of that portal. Instead, what we experience here is the journey, the inbetween, and all of its complexity. JeGong seduce their listeners to enter a sphere that lies between then and now, between always and never. It is a void where time and space vanish, where everything is happening right now and never at all simultaneously. The beginning and end of things form a spiral and reduce all existence to absurdity.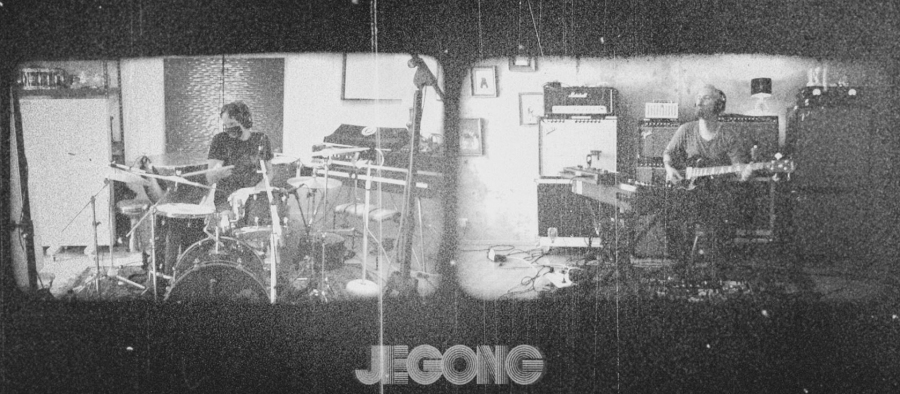 Post Kraut Noise
Like a surrealist painting by René Magritte, layers of perception shift and interact on The Complex Inbetween. The two musicians create artistic soundscapes that are built on a solid foundation of Krautrock while a colourful atmosphere made from Post Rock defines the background. Due to the choice of instruments and effects, Reto Mäder and Dahm Majuri Cipolla distort this psychedelic environment by the power of Noise, Glitch and Electronica. Therefore, the tale of a fantastic journey full of surprises and twists is being told.
8/10 Mangoes
All pictures by courtesy of Pelagic Records
Cover photography by Rachel Bühlmann