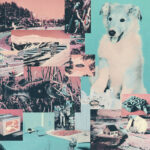 Villages – Excessive Demand
Release Date: October 28, 2022
Label: It's Eleven Records / PIKE Records
Format: Album | Vinyl/Digital
Duration: 36:38 | 8 tracks
Genre: Post Punk / Synthwave
Origin: Dresden/Halle an der Saale/Leipzig, Germany
Let us get devoured!
A self-released demo and the LP "ILL AGES" from 2017 are what East Germany's trio Villages have released so far. Five and a half years later, the sophomore longplayer "Excessive Demand" has been co-released by It's Eleven Records and PIKE Records – the latter have already released the debut. One might say that not much has changed since then: times are still ill, and skies ar still grey.
With their second longplayer, Georg Pester, Paul Härtel and Eric Geißler present an unadorned zeitgeist document. Referring to capitalism and life as a resource, the trio introduces us to the "Excessive Demand" that gnaws on our time wherever and whenever we happen to be. Trying to save some time, happiness or capital for the future, we constantly have to dispense our crucial resources. Patriarch structures, mental and physical health issues or the unjust distribution of privileges lurk everywhere.
Gazing into White Noise
"Excessive Demand" begins with very promising Synthwave and Post Punk tunes. After the first two tracks, the soundscape drifts off into numb spheres of Shoegaze and Noise Pop. Although this may very well work as a stylistic device, it kills the thrill of the album's opening. The next legit highlight is the Psychedelic Post Rock and Dream Rock anthem 'Neal' featuring guest vocalists Stefanie Putsch and Kris Sullivan. Following up, 'Great Headache' and 'Salad Boys' intensifie in energy and thus the album's B-Side shines in the darkish golden light of 1980s' Post Punk.
Villages combine melancholy and numbness and musick them via Post Rock, Post Punk, Wave, Noise, Indie Rock, Dream Rock and Shoegaze. This cocktail does not fit every occasion as it may sometimes be a bit too heavy although appearing very light. With a negative parabola as an arc of suspense, "Excessive Demand" definitely requires the listeners getting used to it. Nevertheless, Villages provide us with four great songs that lie on opposite sites of a void.
5/10 Mangoes