Looking for affordable and high quality promotion for your music? Here's MusoSoup!
DONATE
Summer in Central Europe is the season for festivals, open air shows, skinny-dipping, or getting burned by the sun. Thus, the period from late May to early September is that silly season when releases are rather rare. But whenever this summer hole ends, our record players, CD or tape decks, and sound speakers long for the arrival of brand new releases. For fans of Punk Rock and Hardcore, the season has begun with a big bang since Bavarian label 30 Kilo Fieber Records has provided us with two burning hot new records in early September: "Ultramarin" by Austrian Punk rockers Anna Absolut and the selftitled EP by German Hardcore Punk surfers Neckarions. Both releases can be bought here.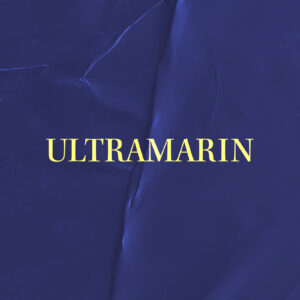 Anna Absolut – Ultramarin
Release Date: September 02, 2022
Label: 30 Kilo Fieber Records / Fuego
Format: Album | Vinyl/Digital
Duration: 30:30 | 10 tracks
Genre: Punk Rock / Indie Rock
Origin: Graz, Austria
Links: Facebook | Instagram
Rocket Start
Anna Absolut from Styrian city Graz are on the best way to become legends. Their first two album "Zebra" (2019) and "2×3" (2021) have received consistent positive feedback. At least three anthems were born in this short period: debut single 'Kreuzberg' which has become an inofficial hymn for the band's home town Graz, the antifascist manifesto 'Keinen Millimeter zurück' (German: 'Don't retreat by a millimetre'), or the workout anthem 'Hantelpunk' (a play on words; 'Hantelbank' means 'weight training bench'). And now, the third longplayer "Ultramarin" is here to continue the successful ascent by the Austrian quartet.
Party and Resistance
Content-wise, "Ultramarin" is a legit sweeping blow. Anna Absolut remind us of the importance of fighting fascism, for example by remembering Graz' resistance fighter Karl Drews who paid opposing the Nazis with his life. But Anna Absolut also embrace procrastination as necessary trait that helps us cope with life these days, and they sure know how to party. The albums greatest song is probably 'Kanonen & Violinen' ('Cannons & Violins'), a powerful whirlwind of a moshpit banger. With songs like the opener 'Wieder wider' ('Against again'), Anna Absolut let sonorous Indie Rock coin their sound more than ever before while the breakup- and destruction hymn 'Alte Bank' ('Old Bench') is a pure and raw Punk Rock slammer.
Love Music – Hate Fascism
Anna Absolut's "Ultramarin" combines dilettante charme with skillful sounds. Punk Rock and Indie dance side by side while the band sings about the resistance against discriminatory systems, about love and life, and never forgets to add some cynicism.
Rating: 8/10 Mangoes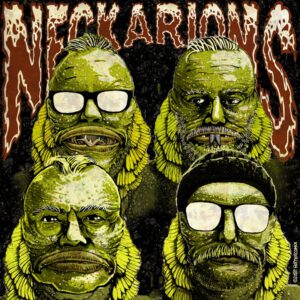 Neckarions – Neckarions
Release Date: September 03, 2022
Label: 30 Kilo Fieber Records
Format: EP | Vinyl/Digital
Duration: 10:04 | 4 tracks
Genre: Hardcore Punk / Surf Punk
Origin: Stuttgart, Germany
Links: Facebook | Instagram
From the swamps of the Neckar
In 2019, a monster was born in Stuttgart, home of Mercedes Benz, Porsche, and an incomprehensible language. It is the year, three German instrumentalist and a Texan vocalist and entertainer have formed Neckarions. A first demo called "Kalle" was released in the same year, and in 2021 Neckarions published their first CD "The Rise of…" via 30 Kilo Fieber Records. Sixteen months and a single release later, the Swabian quartet celebrates their first vinyl leaving the pressing plant.
From the Pacific shore to the Neckar riverbank
Although only ten minutes long, "Neckarions" is a massive powerhouse of an EP. Heavily rolling Surf Rock creates steady movement while 1980s (West Coast) Hardcore grinds across the vinyl with high velocity. Neckarions' selftitled EP is a great fit for the skate park, for demolition and deconstruction, and for every situation that needs a dynamic moshpit.
Holiday in Swabia
Music-wise, "Neckarions" is a powerful Hardcore Surf Punk and Roll cracker. When it comes to vocalist Ivan and his amazing voice, it becomes nearly impossible not drawing comparisons to the Dead Kennedys. This is neither bad, nor does it reduce the fun the Neckarions' EP creates when being spinned on heavy rotation. After all, it is a great release although it partially lacks sustainability and autonomy.
Rating: 7/10 Mangoes
The cover artworks were provided by 30 Kilo Fieber Records. Thank you!
Featured Playlists
MangoRotation
MangoWave Release Radar
The Mango 100: Garage / Surf
The Mango 100: Indie / Alternative
The Mango 100: Party
The Mango 100: Punk / Hardcore
The Mango 100: Workout
Sound of Austria: The Mango 100
Sound of Germany: The Mango 100