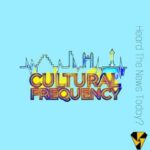 Cultural Frequency – Heard the News Today?
Release Date: January 23, 2023
Label: Exemption Productions
Format: Album | Digital
Duration: 29:18 | 9 tracks
Genre: Alternative Rock / Grunge
Origin: Tulum, Mexico
Cultural Frequency is the most Seattle thing you could find today – and so is their debut album "Heard the news today?". 30 minutes packed to the brim with melancholic grungy tunes and hanging atmospheric rebellious vibes.
The album is produced by the legendary scene veteran Jack Endino, who worked with the likes of Nirvana, Soundgarden, and Pearl Jam; at this moment you're supposed to understand what you should expect, and Cultural Frequency delivers.
Everything here screams grunge: rich basslines and transparent guitar, rolling drum rolls, less singing and screaming in favor of talking. The motto of "Heard the news today?" should be NO FAST SONGS, THESE FEELINGS TAKE TIME! Almost every other track is adagio yet light-mixed soundtrack for loitering to the border of anarchy. We are talking the survivor wave grunge, with positive sentimental feelings, while still transmitting slight hopelessness/melancholy.
Cultural references past and present here and there, as 'Grunge Cowboy' kicks off with a symbolic nod to Black Sabbath, occasional hardcore punk moves, and Nomeansno vocal techniques (truly, Vancouver is Canada's Seattle).
Overall, "Heard the news today?" heavily relies on the rhythm section and slow-burning atmosphere of sad-happy.
Cultural Frequency is very much under the radar, but that fits their image perfectly. Being famous literally killed too many great grunge musicians to take risks. These guys definitely put themselves out there with their sharp anti-war, anti-police violence social commentary in these fascist, warmongering times.
Text by Dmitriy Churilov