This coverage was created via Musosoup #Sustainablecurator – a contribution was made by the artists to help sustain website costs.
Click here and run your own campaign on MusoSoup
DCxPC Live Vol. 10 Presents RATH & The Wise Guys & The Kutoffs Live at Lou's LMGA
December 19, 2022
DCxPC Live
EP | Vinyl/Digital
A: 05:47 | 3 tracks
B: 06:30 | 2 tracks
Punk Rock / Skate Punk
Florida, USA
An all-Floridan Night at Uncle Lou's
Regular readers of MangoWave and fans of US Punk Rock will already be acquainted with DCxPC Live, the Orlando-based bookers and supporters of Hardcore, Punk and Skate Rock. Mr. P and Mike Hellbound have made it their mission documenting and recording amazing live gigs ands making them immortal by releasing them on limited 7" vinyl records. Among the DCxPC Live releases featured on MangoWave, Vol. 9, the five-track concert by San Diego's Some Kind of Nightmare was a legit banger. And here we are again with another concert recording made at the same venue: here are RATH & The Wise Guys from Holiday, Florida and The Kutoffs from Lakeland, Florida who performed live at Uncle Lou's LMGA in Orlando, Florida on March 19, 2022.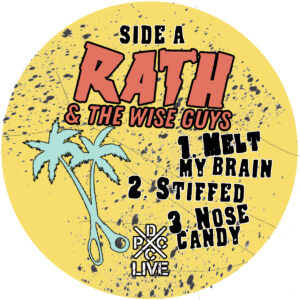 RATH & The Wise Guys
Short note for all the German readers: don't worry, this has nothing to do with the vocal ensemble Wise Guys. RATH & The Wise Guys are a Beach Punk Skate Rock trio from Holiday, Florida. The band consists of RATH (vocals and guitar), The Hooligan (bass and vocals) and Chopper (drums) and they have played their first gig in early 2021 and have gained strength, experience and stamina since then. The gig at Uncle Lou's LMGA was a special one for the as it took place only hours before frontman RATH was about to turn 29. Thus, spending this night with his friends Chopper and The Hooligan, with The Kutoffs and with everybody who was at Lou's was a unique party for the young musician. And as if it were not great enough already, they played the best show of their lives (so far).
Surfers, Skaters, Beach Punks
everyone in here is going to hell tonight
This great phrase introduced the concert and only moments later, RATH & The Wise Guys mow down the audience with their highspeed Skate and Surf Punk. After a breathtaking moshpit of less than two minutes which is called Melt my Brain only few were uttered by RATH who informed the audience that they were wasting their time. Obviously, the listeners were pretty happy about doing so when the band played their second song Stiffed, a melodic Skate Punk anthem. In another quick announcement by the vocalist, the audience gets to know that the song has never before been performed so well, and without beating about the bush, the band jumps into the live recording's A-Side's final track Nose Candy. In this banger, the trio freed even more energy than in the two previous track, and you can really feel that this concert was a party.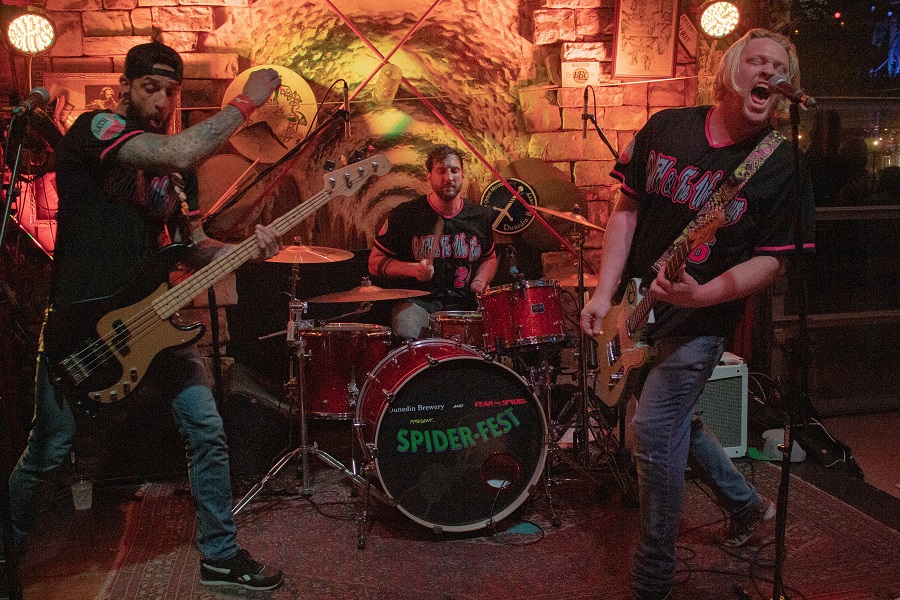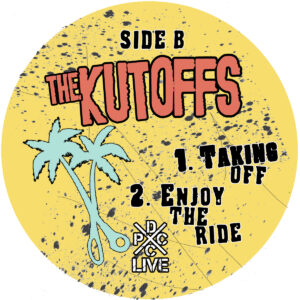 The Kutoffs
Second band on stage were The Kutoffs from Lakeland in Central Florida. Some time when most of our planet was quarantined, two guys name Chad wanted to form a punk band. So, Chad Chastain (drums) and Chad Gaffney (vocals and guitar) were looking for a bass player once they discovered their shared love for Punk Rock. After Carlos Fossi Jr. joined them as a bass player and additional vocalist, the four musicians felt happier but something was still missing. That hole got filled when drummer Chad made a new friendnamed Jack. Jack Beeman was the final ingredient, the vocalist and guitar player that finally completed The Kutoffs.
Playing with Explosives
RATH & The Wise Guys have already gone raw on the audience, and thus, one can imagine Uncle Lou's LMGA like the coarse striking surface of a matchbox. Consequently, only a spark would have been enough to have the atmosphere explode. But The Kutoffs did not come to Orlando to play easy. Instead, the songs on this live recording are a legit conflagration of melodic Punk Rock. Taking off and Enjoy the Ride operate similar styles as both songs are activating and catchy tracks for the skateparks and for a bouncing punk rock party – six-and-a-half minutes of pure joy and sweat.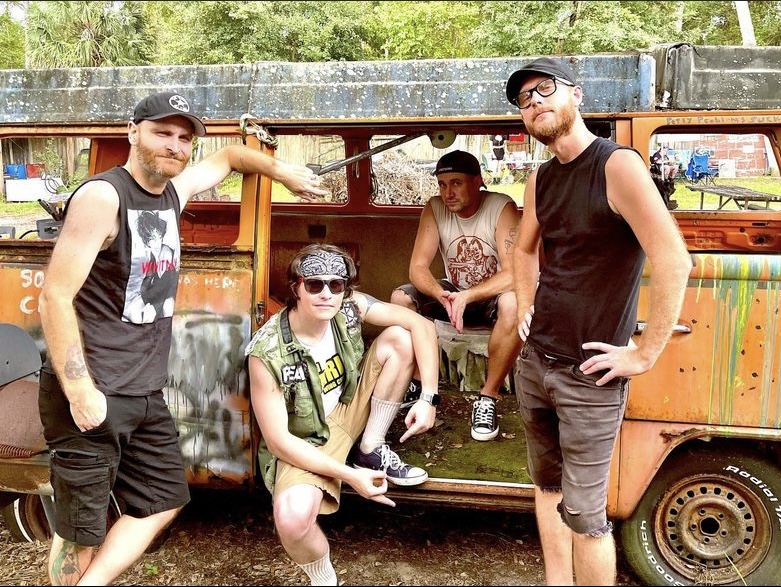 The Pogo Never Stops
DCxPC Live Vol. 10 was recorded by Joshua Dobbs who also mixed and mastered the EP at Danger Room Recording Services. The live stream of the gig was made possible by Steve from No Vacancy Media. And thus, like all the previous releases of this series and all DCxPC Live releases still to come, Vol. 10 is the result of people working together to create something that they love. Undeniably, they did a fantastic job!
8/10 Mangoes
All pictures by courtesy of DCxPC Live