Want to advertise on MangoWave?
Send an e-mail to raphael@mangowave-magazine.com
---
Night Punch – Where Sins bloom so does Death
| | |
| --- | --- |
| July 07, 2023 | It's Eleven Records |
| Album | Cassette/Digital | 32:19 | 13 tracks |
| Synth Punk / Hardcore Punk | Hamburg, Germany |
Five Exes for Eschaton
Three years after their unholy baptism and the release of their four-track Get Lost Tape, Night Punch have now released their first longplayer. Night Punch are five musicians from Northern German metropolis Hamburg. Yannick (drums), Luka (bass), Paul (synths), David (backing vocals and rhythm guitar), and Maddes (lead vocals and lead guitar) have played for bands such as Melting Palms, Death Canyons, Haemorrhoids, Brain Traps, Dead Novelettes or The Dutts. Combining their forces of Garage Rock and Punk, something odd (and probably supernatural) happened. A mutant has come to our world. And yet we cannot tell for sure if they will bring doom or reincarnation. But they definitely bring chaos and noise first.
Scalpel Storms
Where Sins bloom so does Death is a 32-minute thunderstorm of apocalyptic Hardcore Punk. Night Punch often cross the borders towards (early) Hüsker Dü-like Post Punk and Dark Punk in the veins of Es War Mord. Most dominant features are yet the machine gun-like drum section and the ice cold synthesizer sounds.
Using the allegory of a tempest, wide sections of Where Sins bloom so does Death can be described like this: drums and bass are ginormous gust of wind which blow over trees and buildings. The guitar are rubble, debris and further objects that fly through the air as the storm has impacted them. With high velocity they tear evertyhing apart that gets in their way. Behind those razor-sharp flying objects there are the icy sounds of the synths – rain so cold it freezes. And above all there are the vocals which can be compared to a nameless bringer of the apocalypse who frequently throws lightning into this chaos.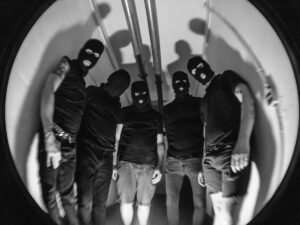 End Time, again
One may think of bands like the Neurotic Arseholes or Coma Beach when listening to the apocalyptic sounds of Night Punch. It is a certain mix of desolation and refusal to give up that defines the music on Where Sins bloom so does Death. Embracing and accepting the end of days on the one hand, and refusing to surrender to the darkness without a fight on the other, Night Punch provide a truly apocalyptic soundtrack. And although there are some reptetive themes, Where Sins bloom so does Death is a legit sonic thunderstorm which is made to be played in repeat.
9/10 Mangoes
All pictures by courtesy of It's Eleven Records
Cover artwork by Fuzzgun