Bazooka – Κ​ά​π​ο​υ Α​λ​λ​ο​ύ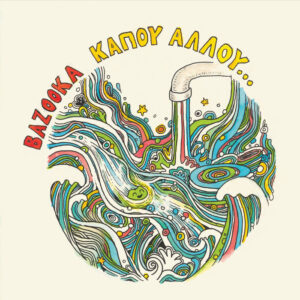 41:57 | Album | 21/10/2022
Inner Ear Records | Vinyl/CD/Cassette/Digital
Psychedelic Punk / Post Punk
Athens, Greece
On their fourth longplayer, Bazooka from Greek capital Athens invite us to a thrilling joyride through the realms beyond our consciousness. It is the world that is hidden during daytime and unfolds its colourful beauty once our bodies rest that the quartet invites us to. In an escapist manner, Bazooka help us get away from a world falling to pieces and explore a fantastic space "Κ​ά​π​ο​υ Αλλού" (Greek: Somewhere Elsewhere).
The vessel that this joyride is undertaken on is made of satisfying psychedelia, body-shaking Punk Rock and the gloomily exciting mood of Post Punk. And thus, somewhere between pure joy, absolute excitement, fear of the unknown, and the unstoppable urge to discover this fantastic world, the longplayer entertains with almost no blackouts. For the dreamers, for the escapists, for those who want to wake up and improve life in the real world, and for everyone who loves the sound of the Greek language, this album is a must-have. 8/10 Mangoes
behind closed doors – caged in helices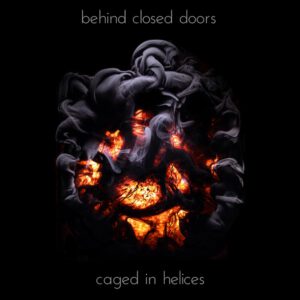 48:28 | Album | 28/10/2022
My Redemption | Vinyl/Digital
Post Metal / Prog Metal
Netherlands/Germany/Sweden
Just like Bazooka took their listeners to dreamland, international trio behind closed doors is also inviting their audience on a thrilling trip. Driven by rough sounds and decorated with gorgeous ornaments of Classical music, the European band tells seven imposant tales that do not need words or vocals. These voiceless narratives tell of the darkest spheres of the human mind and the psyche. Those are questions about the point in life, about the will to continue, about its absence, about doubt.
And like that, the sounds on behind closed doors' new album "caged in helices" stand like a rock surrounded by a misty blizzard. Alone, bare, and yet solid and autochthonous, the sonic environment displays an everlasting power that remains. This sustainability can be found in the music itself, too. Catchy melodies like the heavy Prog Metal lead in 'the essence of doubt' will remain in the listeners' ears for a long time. What makes "caged in helices" so great is nevertheless the tense power that erupts between the sweet string ensembles on the one hand and the rough Metal riffing on the other hand. 7/10 Mangoes
Mothman and the Thunderbird vs World Eaters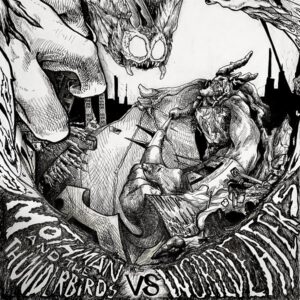 18:15 | Split EP | 28/10/2022
Independent | Cassette/Digital
Blackened Sludge / Doom Death Metal
Philadelphia, PA, USA / Guelph, Ontario, Canada
If you have ever wondered what the apocalypse might sound like, here might be a possible answer for you. The cassette tape on hand contains two tracks by Philadelphia's one-person army Mothman and the Thunderbirds and another two by Ontarian war machine World Eaters – the latter have recently become a duo since drummer Winter Stomp has joined.
Mothman and the Thunderbirds commence this eschatologic narrative by two short but painful Blackened Sludge songs that come with a modern twist. It may be due to the mix by Prog Metal legend Egor Lappo or due to the experimental approach to Sludge by Alex Parkinson; in any case, this EP begins with legit hellfire. Those who thought it was over after the whole world was set on fire were wrong for the army of the dead has just begun its march. For twelve minutes, Wold Eaters from Guelph open the gates of hell and let the merciless forces slay everyone who has survived the first apocalyptic wave. No prisoners, no remorse, just pure Bolt Thrower-meets-Thou Doom Death Metal. 7/10 Mangoes