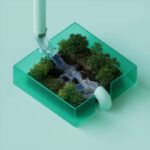 Heartour – Years
Release Date: December 02, 2022
Label: Independent
Format: Album | Digital
Duration: 35:41 | 10 tracks
Genre: Indie Rock / Electronica
Origin: Los Angeles, CA, USA
Heartour has established itself as a household name on the not-so-indie scene of Los Angeles due to its eclectic smart style – and after a slate of singles, the band has finally unveiled a new full-length album.
From the very beginning, "Years" makes an impression of a solid Indie Pop staple worth Pitchfork's attention in the past decade, i.e. the sound and the flow of Arcade Fire, XX, and Tame Impala. What makes "Years" more interesting and relevant in 2022 is the abundance of synths and songwriting based on the use of those. It comes as no surprise that Jason Young, main musician behind Heartour, supported Muse a few times with his previous band The Ruse, as the bands feel like siblings.
The whole release holds a stable medium tempo, a lot of programmed drums and epic melodies, clean singing only, and a lot of Swedish school of pop influence. From the second part of "Years", the songs become lighter in the terms of mixing, dipping more into electroacoustics and catchy tunes (think Caligola and Yeasayer).
And I'd name 'IT' as the highlight of the album: probably the darkest number of the release, closer to the underground parts of Heartour, touching the waters of Trip Hop and Slowcore.
Heartour continues its triumphant pace to the top of the indie rock Olymp, improving every aspect of what made the band great in the first place, and "Years" is definitive proof of that.
Text by Dmitriy Churilov