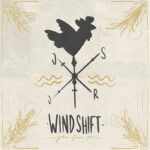 John Steam Jr. – Windshift
Release Date: December 23, 2022
Label: Independent
Format: EP | CD/Digital
Duration: 12:37 | 4 tracks
Genre: Americana / Folk Rock
Origin: Nuremberg, Germany
Introducing The Feverdreams
John Steam Jr., the anti-cowboy from Central Franconia has recently been a regular guest in the category Black Elephant Sunday. Also, on the old MangoWave page, John Steam Jr. had several appearances – both alone and with his friends from Folk's Worst Nightmare. Recent full-length releases were the freedom-affirmative album "Anywhere but here" in 2018, and the pandemic-influenced longplayer "Simple" in 2020. The world is a-changing and so are the arts that express what is going on. John Steam Jr. has continued his mission to share his thoughts and to spread positivity, and parallel to going on, severe development can be found in his recent work. Be therefore introduced to John Steam Jr. & The Feverdreams.
Crossroads are where Travelers meet
Singer and Songwriter Jens Hold has gathered musicians and has therefore laid the foundation for a new sound. With drummer Domi Back, keyboarder and vocalist Julia Fischer, electric guitar player Eric Flach and bass player Hannes Stegmeier The Feverdreams are the quartet that accompanies John Steam Jr. on "Windshift". Domi Back (who had plenty of appearances on The Black Elephant Band's "Fixing great Mistakes with Duct Tape" under the alias Bommy Duck) also played the trumpet for the song 'Privilege'. The same song features Pascal Feiertag on the saxophone.
But the development or progress mentioned before goes far beyond the adding of further musicians and instruments. On "Windshift", which is the first part of a double EP, John Steam Jr. introduces a whole new sonic image.
Turn of the Tide
"Windshift" was recorded by Philipp Fleischmann at Schwarzkopf Studios in Nuremberg in a two-day session, and then mastered by Philipp Welsing at Original Mastering. This mix of professionalism and down-to-earth DIY character is also part of artistic "Windshift" that defines the EP's sound, yet the centrepiece is located elsewhere.
The four songs that deal with relationships ('Elephant Love'), empathy ('Privilege'), staying tru to oneself ('Radio') and arguments with the inward voice ('422am') introduce a new John Steam Jr. sound. Still coined by wanderlust and passion, the Folk and Americana sound has adapted majorly two new features: Blues and Pop. Although earlier releases have been catchy and the Blues had been a steady companion to John Steam Jr.'s sound, "Windshift" may be the beginning of a new era in the artist's development.
And after all, the DIY character is still there on the selfreleased, live-recorded CD that can be bought for 5€ on bandcamp. People over Profit and Community not Competition are still key.
7/10 Mangoes