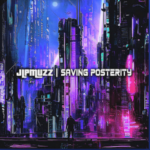 JLPMuzz – Saving Posterity
Release Date: January 21, 2023
Label: Independent
Format: Album | Digital
Duration: 44:14 | 12 tracks
Genre: EDM
Origin: Australia
Australia is a well-known cradle of talented artists, and it's difficult to keep track of all of their goodies. We are here today to shine some light on a homegrown producer/artist JLPMuzz who blessed us with a full-length LP released in 2023.
"Saving Posterity" is the latest electronic dance music offering from JLPMuzz. The album features 12 tracks of upbeat, chilled beats and spacious basslines, perfect for getting you on the dance floor – or lying on a lazy chair while being slightly high. While the album doesn't break any new ground in terms of genre or style, it's a solid offering that will no doubt please fans of electronic dance music.
The album opens with Forsaken Hindsight which sets the tone for the rest of the album with its distant synths and mellow beat. While the introduction is mostly relaxed still it demonstrates that infectious groove. From there, the album continues with a series of higher-energy tracks, each with its own unique flavor.
One standout track is 'Pleasant Arrival', which features a catchy melodic hook and a trippy groove. The track has a psych vibe compared to some of the album's more dance tracks, but it still maintains the high level of energy that is present throughout the album. Another standout track is 'Teleportation', which has a darker, more atmospheric sound. The track's brooding synths and (a little) ominous bass create a haunting atmosphere that is sure to make an impact on the dance floor.
JLPMuzz demonstrates a deft hand at crafting catchy melodies and rhythms that will keep listeners moving throughout the album. The production is crisp and clean, with each element of the mix coming through clearly. The use of various sound effects and keys adds to the overall atmosphere of the album, creating a cohesive sound that is both engaging and dynamic.
While the album does not offer anything particularly revolutionary or new, it does what it sets out to do exceptionally well. It is an album designed for the dance floor, and it delivers on that promise with a series of high-energy tracks that are sure to keep listeners moving. The album's accessibility and familiarity make it an ideal choice for parties and events where you want to keep the energy high and the dance floor packed.
In conclusion, "Saving Posterity" is a solid addition to the electronic dance music canon. It is a well-crafted album that showcases JLPMuzz' skill as a producer and his ability to create engaging and dynamic dance tracks. It is an album that will undoubtedly please fans of electronic dance music and is sure to be a hit on the club circuit. If you're looking for a no-frills dance album to get your feet moving, this one is definitely worth a listen.
Text by Dmitriy Churilov