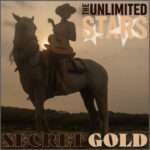 The Unlimited Stars – Secret Gold
Release Date: February 23, 2023
Label: Independent
Format: Album | Digital
Duration: 35:17 | 8 tracks
Genre: Shoegaze / Psychedelic Pop
Origin: Austin, TX, USA
The Unlimited Stars is a standout act in the shoegaze scene, combining elements of Low and Slowdive with pop sensibility and a female vocal dynamic of Mazzy Starr. The result is a sound that is both dreamy and melodic, with a strong focus on atmosphere and emotion, still pretty much rebellious and rock'n'roll.
The band's music is a seamless blend of ethereal soundscapes and pop accessibility, making for a captivating listening experience. Their attention to detail in production is evident, with each layer of sound carefully crafted to create an immersive atmosphere. And taking into consideration the minimalist approach to songwriting, "Secret Gold" is working around the territories of PJ Harvey in her prime. That slight underground edge they bring to the genre is a welcome addition, as it sets them apart from more mainstream shoegaze acts and adds a raw, unpolished flavor to their sound. Covering The Doors greatly adds up to the concept.
What sets this band apart, however, is the elusive beauty of sadness that pervades much of their music. The dreamy soundscapes and sometimes folk harmonies serve as a backdrop for lyrics that delve into psychelia and melancholy. The result is a collection of songs that are both emotionally powerful and sonically mesmerizing.
This band's ability to create beautifully sad music sets them apart from their peers, and is sure to resonate with anyone who has the gut to experience bleaker sides of rock – think GGGOLDDD. Their songs are slow-burning return trips that showcase their mastery of the melancholic mood in the vein of 16 Horsepower, making for the perfect soundtrack to driving a coffin to the funeral, still somehow not being particularly sad about it.
The album is consistent and solid, still one song really stands out for me. It is 'Angel Lust' I am talking about: the lyrics seem to describe a person who has suppressed their desires for a long time, but is now feeling hungry and restless. They ask to be taken away and provided release. They also mention that a misfortune brought them to this state, and they refer to their desire as 'Angel Lust'. These lines express a strong yearning or craving, possibly for something forbidden or dangerous, performed in angelic vocals and super soft background music.
In conclusion, this band is a must-listen for fans of shoegaze and dream pop, with an underground twist and definitive songwriting skills that constantly shine throughout "Secret Gold".
Text by Dmitriy Churilov