This coverage was created via Musosoup #Sustainablecurator – a contribution was made by the artists to help sustain website costs.
Click here and run your own campaign on MusoSoup
Nicky Buell – The Gay Agenda!
February 09, 2023
Slay Records
Album | Digital
31:25 | 11 tracks
Electronic Pop / Dance
Seattle, WA, USA
Oh, you're looking for drama?
Well, then you came to the right place. Seattle's aspiring artist Nicky Buell is successfully defending his stance as an iconic figure of the queer pop scene. Thus, there is no skimping on attitude when the musician from Washington presents The Gay Agenda!, an eleven-track album celebrating and embracing queer life. It is an album that deals with breakups and ecstasy, with drama and love, with bromance and everyday life. The longplayer has already received positive echoes in the realms of pop culture and its realisation has been supported by Phil Peterson who has also worked with Lorde, Lana del Rey, or Taylor Swift. Also, songs from The Gay Agenda! have been on the series The Sex Lives of College Girls.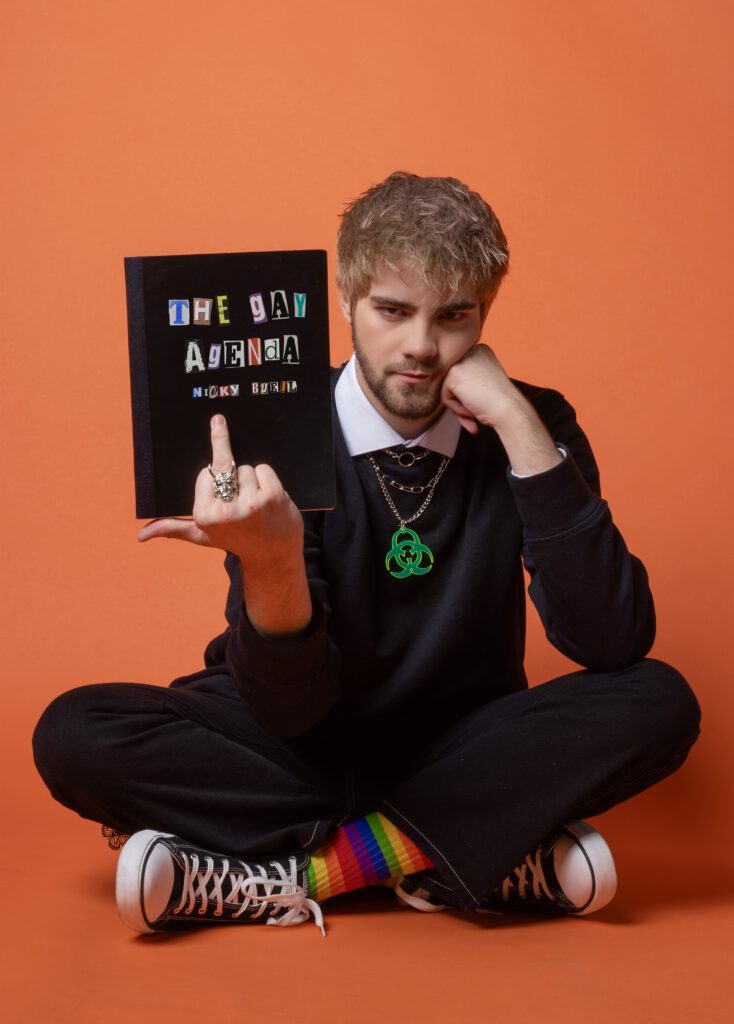 Fabulous Pop Music for all Moods
The sound demonstrated on The Gay Agenda! is as colourful, diverse and versatile as life itself. The range goes from massive Disco bangers built on heavy synthesizers as in the post-breakup song Camp to cuddly Dream Pop hymns like the self-explanatory track I Love You. Sonic images, some of them sweet and boppy like the inside of a chewing gum machine while others are blurry or even grey, lead through The Gay Agenda!. And between these spheres, there is always space for self-esteem boosting vibes and a banging party. Nicky Buell presents a confident album for every mood, a great collection of contemporary pop music reaching from Disco to Dream Pop and from modern R'n'B to Rap.
7/10 Mangoes
All pictures by courtesy of Nicky Buell