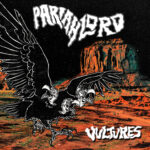 PARIAHLORD – Vultures
Release Date: September 02, 2022
Label: Boersma Records
Format: Album | CD/Digital
Duration: 45:56 | 8 tracks
Genre: Stoner Rock / Desert Metal
Origin: Hagen, Germany
Vultures, Vans, and Valleys
Somewhere between the Ruhr Valley and the Sauerland, in the town of Hagen, a little flock of vultures has come together. The talk is of Phil Röttgers (drums), Jan Kurtze (bass) and Carsten Schmitt (guitar and vocals) who formed the band PARIAHLORD in 2019 and released their first EP "Embrace the Misery" in March 2020. It was not the time for touring or playing any gigs due to lockdowns and COVID-related restrictions and yet, the first release by PARIAHLORD was praised among the Stoner Rock scene. It is thus no surprise that the trio quickly found motivation and energy to produce their first longplayer. The eight-track "Vultures" features guest musicians Robert Kingham (Minimum Labyrinth) and Stephen Coates (The Real Tuesday Weld), and it was released via Boersma Records two-and-a-half years after the debut EP.
Black Aces and Black Eights
Although PARIAHLORD have dedicated their sonic story-telling to the Wild West, they implement contemporary references into their tales on life and death in the desert. Megalomania, political and social tensions, and further present-day issues covibrate as PARIAHLORD tell us the story of Bill Hickok or the voice of Vrillon.
On the musical side, "Vultures" is located as deep in the desert sand as its tales. Between Stoner and Desert, between Rock and Metal, PARIAHLORD present a powerful sound in the name of the holy fuzz. One may think of bands such as Slo Burn, Truckfighters or Dozer to get an idea of this Stoner-Desert-Doom bastard that plows through the wastelands without getting lost in the sand.
Music for Hitchhikers and Stargazers
The heavily rolling sound by PARIAHLORD expresses an impressive feeling of freedom. "Vultures" is the soundtrack for the one life we have, no matter how weird and dangerous it may be sometimes. And thus, the album is very entertaining although not super unique in sound. Music for roadtrips and long nights under clear skies.
6/10 Mangoes