This coverage was created via Musosoup #Sustainablecurator – a contribution was made by the artists to help sustain website costs. Click here and run your own campaign on MusoSoup
---
Cholly – IDMY
The Returning Ghost of the Old Self
The song IDMY was released previous to the album Anomaly on which it is featured, too. And even though this article focuses on the ex ante single predominantly, it shall come with the explicit recommendation to listen to the whole album as well. Anomaly is Cholly's debut album which she finished in a bit more than half a year. Recording, production and design were all done by the artist herself before Conor Amos took care of the mix and Antony at RedRedPaw was responsible for the master. Further guests on Anomaly were Khalin, Lucas and a cat called Alucard who provided samples for the recordings.
And as a showpiece for this stunning collection of dark and movng electronic tracks, here is IDMY, a song in which the protagonist fights against the returning shadows of their own past: ideas, points of view, deeds that have long been gone, but keep creeping back to haunt the protagonist.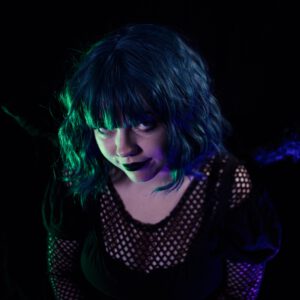 IDMY
The song title is an acronym for I don't miss you or I didn't miss you. The phrase is mostly used when talking to ex-partners or friends one had to oust from the inner circle, so one had less toxic input. As mentioned in the upper paragraph, Cholly addresses her former self instead. Thus, IDMY is about the well-known phenomenon of being haunted by oneself. It can be embarassing stories, big faults, or points of view of the past that frequently haunt the mind, reminding us that they will never really leave – no matter how often and how deep we bury them.
As IDMY is sort of an inner monologue or an argument with a past self, it is displayed in a dreamy but dark soundscape. Hazy clouds made from Trip Hop and Dark Electronica slide through the sonic environment and thus convey the feeling of being in a dream-like state. The soundscape alone is deeply thrilling and it drags the listeners into another dimension by its cinematic power. And on top, there are Cholly's vocals: ethereal falsetti, dreamy melodies and resolute phrase dance through the dreamscape and thereby complete this amazing tune.
9/10 Mangoes
All pictures by courtesy of Cholly. Photo Credit: Conor Amos.
The featured image shows Cholly performing live at Fluff in Manchester, 2022.