This coverage was created via Musosoup #Sustainablecurator – a contribution was made by the artists to help sustain website costs.
Click here and run your own campaign on MusoSoup
katie drives – Next to You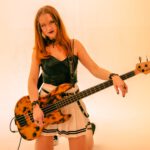 03:26 | Single | 02/12/2022
Digital | Independent
Indie Rock / Pop Rock
Berlin, Germany
The year 2022 is about to end, but it is not yet too late for a new star to rise into the skies of Pop and Rock. It is German artist katie drives who released their latest single 'Next to You' in the 48th week of the current year and who will thus remain in our ears as we transfer into 2023. The young musician from Northern Germany has found her way of expressing herself via music and has thereby overcome her shyness. By combining contemporary Pop music with energetic Millenium-era Indie Rock and some snotty Punk Rock attitude, katie drives knows how to shake and move her audience.
'Next to You' – the follow-up song to the successful single 'Ghosts' – is a song about self-image and comparing oneself to others. When being around other people or seeing them on social media, there are multiple chances for feeling bad next to them. It is a phenomenon that female people know especially.
katie drives' dynamic Pop Rock anthem is a call for unity and a battlecry against those mechanisms that make people turn against each other. Opened by an energetic Eurodance-like beat, katie drives' vocals lead the sound towards an electrifying Indie Rock atmosphere until the energy discharges into the powerful Pop Punk chorus. Dancing along between those musical themes, katie drives presents a powerful hymn for the dancefloors, for the gyms, for embracing oneself and for uniting forces against patriarch structures.
8/10 Mangoes
Jane Leo – Big Life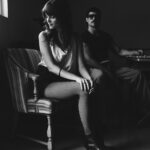 03:59 | Single | 20/10/2022
Digital | MARS Label Group / Native Fiction Records
Art Rock / Post Punk
Austin, TX, USA
When Jane Ellen Bryant and Daniel Leopold from Texan city Austin presented their new single 'Big Life', they did more than just enchant their listeners with a timeless and cinematic Rock song. The single release was furthermore a sonic carrier for great news of twofold nature. Firstly, 'Big Life' came with the announcement that Jane Leo have signed a contract with MARS Label Group. Furthermore, the single commenced the promotional phase for the duo's upcoming seltfitled debut album. The longplayer will be out on February 17, 2023, and it will give us a deeper insight to the colourful black-and-white world of the Texan duo.
Less than half a beat into the song, it becomes obvious that this one is a party anthem – not the one that makes you toss furniture out of the window, but the kind that makes joy float through your veins with every drumbeat. Mixing catchy and psychedelic Indie Rock with sonorous and gently warm Post Punk tunes, Jane Leo create a sonic rabbit hole to jump into. Funky and dynamic on the one hand, raw and cold on the other, 'Big Life' becomes a musical supernova made from dichotomies, comparable to the sounds by Dutch Art Rock band Eruption Artistique.
8/10 Mangoes
Deep Dive Species – Aquaphilia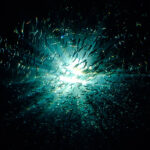 48:30 | Album | 01/04/2022
Digital | OMNINORM Records
Trip Hop / Post Rock
New York, NY, USA
When New York residents Sergey Popovich and Vadim Militsin found themselves confronted with the first lockdown due to the pandemic. they knew that they had to do something against the tristesse and the suffocating silence. Militsin who is a veteran of the Electronica scene thus teamed up with guitar player and vocalist Popovich in a new project that allowed both musicians to combine their different sounds. Two years after the first lockdown introduced humankind to the Coronacene, their first album "Aquaphilia" has been released via OMNINORM Records.
With guitar riffs and virtuous licks on the one hand and atmospheric synthesizer sounds on the other, Deep Dive Species invite their listeners to a 48-minute escapist session into the depths of the sea. Wave-like Post Rock motifs carry colourful Trip Hop sparks through seven oceans while the viscose power of Ambient flows around pebbles and rocks made from Alternative Rock themes. With the electronic soundscape being a bit more present, "Aquaphilia" predominantly takes place in th spheres of Ambient and Trip Hop. Nevertheless, the musical act of nature paints gorgeous and mesmerizing pictures and tells of thrilling incidents that take place between sunrays or rain drops that hit the tide's surface and the hidden life deep down. This truly is an impressively meditative album.
8/10 Mangoes