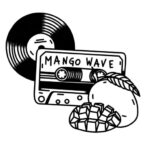 Another little Journey through Time
Want to advertise on MangoWave?
Send an e-mail to raphael@mangowave-magazine.com
---
The Sound of Art Brut Paintings
Two years after the release of their debut Kollaps, West Berlin's artistic collective Einstürzende Neubauten published follow-up longplayer Zeichnungen des Patienten O.T. which refers to Austrian artist Oswald Tschirtner. Struggling with mental health issues, the artist spent much time at hospitals and sanatoriums. There, he created his works which later referred to as Art Brut.
Dark Noises and Harsh Innovation
Einstürzende Neubauten are well-known for their experimental soundscapes. Even though, Zeichnungen des Patienten O.T. was only their second longplayer, it already contains some serious next-level noise. An example for this is the recording of knuckle-cracking and teeth-grinding in Finger und Zähne. The band from the West German exclave has turned the concepts of music and sound around several times after this one. Nevertheless, Zeichnungen des Patienten O.T. is already a shiny example for avantgardist performative arts.
Claustrophobia, Angst, and Escapism
Die Zeichnungen des Patienten O.T. is truly not for the faint-hearted. Einstürzende Neubauten grind, deconstruct, crush and destroy while they scream, shout and add voice samples to this cacophony. You may say that this is just noise, or that it is next-level art. In any case, it is outstanding, and it stands for the time it was created in. Cold War melancholy meets anxiety and psychological issues. Let us thus embrace a great work of performative noise arts from the early 1980s.