This coverage was created via Musosoup #Sustainablecurator – a contribution was made by the artists to help sustain website costs.
Click here and run your own campaign on MusoSoup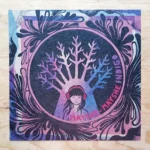 Mayshe-Mayshe – Indigo
Release Date: November 11, 2022
Label: Independent
Format: Album | Vinyl/CD/Digital
Duration: 38:31
Genre: Art Pop / Dream Pop
Origin: York, England
In September 2022, Alice Rowan from York, also known as Mayshe-Mayshe announced that her second full-length release "Indigo" will be out on eleventh November of the same year. Shortly after, the first single off the new album 'Dark Mountain' raised the anticipation. Between speedily driving drums on the one side and bittersweet and dreamy electronic sounds on the other, Mayshe-Mayshe invited us to drown in the modern world's zeitgeist with her. Four weeks later, the second and final ex ante single – the title track 'Indigo' – got published. Here, a fantastic sonic wonderland sprawls in front of the listeners' third eye, and a space where comfortable numbness and chill gloom come together is introduced.
A Swim in the Sea of Stories
Mayshe-Mayshe's sophomore longplayer is a melting pot that lets contrasts vanish, and that creates a unique alloy of antagonists – flintier than any material known on Earth and yet smooth and flexible. Content-wise, Mayshe-Mayshe expresses the sorrows of our times such as the rising influence of misinformation, global issues, mental health, and the ongoing tension that accompanies us every day. Amidst these dark clouds, Mayshe-Mayshe lures the listeners under her sonic umbrella. Protected by warmth, sunny heartfulness and understanding, a musical safe space exists here – a welcome time-out from the madness outside. Imagine a stormy, cold and dark scenery in which a person stands under an umbrella full of sunlight and rainbow colours – this is "Indigo"!
Electrifying and Comforting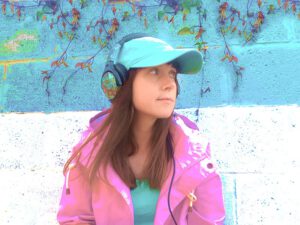 On the musical sphere, "Indigo" moves within the realms of Electronica, Dream Pop, Glitch and related genres. Fans of Björk, The XX, or Lorde will all find plenty of joy with these thrilling soundscapes. The music on Mayshe-Mayshe's sophomore album is founded on intelligent drum and percussive patterns that merge with a warm synthetic bass.
Above this solid ground, several layers of Synth, Dream and Art Pop dance with each others like snowflakes or autumn leaves in a gentle breeze. Strong benches of sound interchange with featherwheight melodies and thus create colourful pictures. As these different layers combine chill and warmth, the vocals by Mayshe-Mayshe are the final element to put them together. Ethereal chants as in 'Velvet', spoken word passages as in 'Dark Mountain', or rap elements like the bridge in 'Monastery' are yet another example of the great versatility that defines "Indigo".
Nevermind Bedroom Pop – This is DIY Art Pop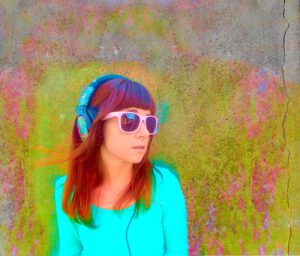 "Indigo" is a legit DIY product since Alice Rowan has created the sounds of this great Electronica album at home. Although self-production and home-recording are features of a rather minimalist work, the result is full of depth and variety. Jeff T. Smith – Rowan's band mate from Living Body – supported Mayshe-Mayshe by co-producing and mixing the eleven-track album.
Alongside avant-gardist creators of soundscapes like 13 Year Cicada or Eruption Artistique, and narrators of thrilling sonic tales like Joanna Gemma Auguri, Mayshe-Mayshe is an amazing artist who deserves a lot more attraction. The Yorkshire-based musician's second longplayer is a stunning journey that combines empathy, escapism and zeitgeist.
9/10 Mangoes