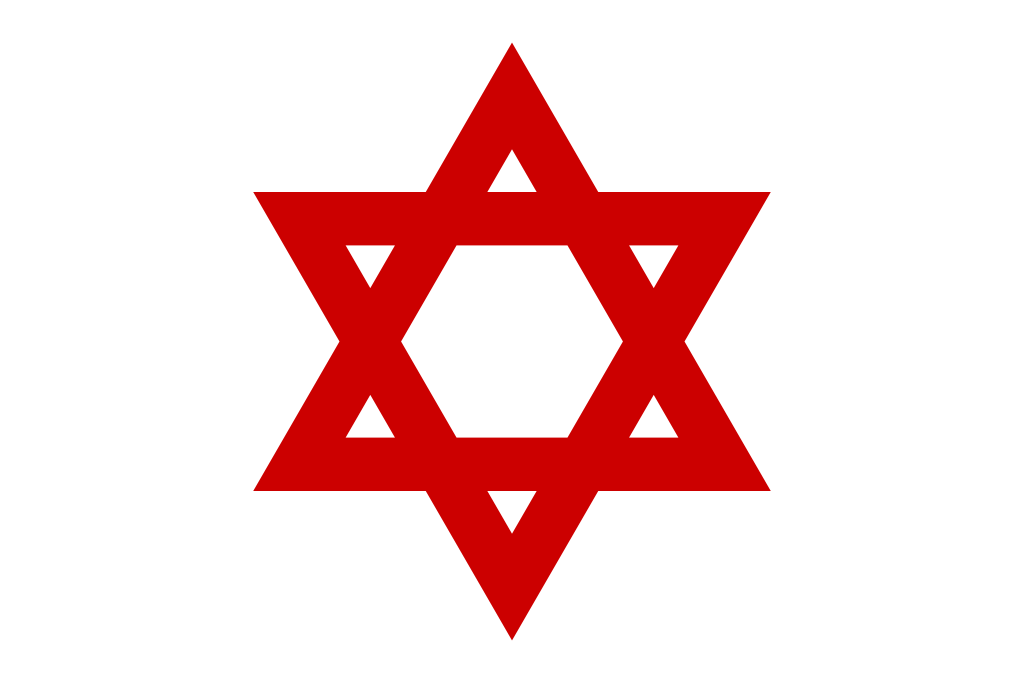 Help to save and protect lives in Israel and Gaza
Click here to make a donation to Magen David Adom
---
A Night at the Krea
As it was announced recently, MangoWave went to Kreativfabrik Wiesbaden on November 04, 2023. On the way there, it was found out that Leipzig's The Heroine Whores dropped out of the line-up. Apparently, their cancellation came in a week before the gig, and two days before the event a replacement band was found. Nevertheless, it was a pity. Everyone who wants to follow the Grunge and Punk trio who recently released their new EP Grunge Sells, use this linktree.
The Kreativfabrik is a sympathetic non-profit venue close to Wiesbadens central train station. It is furthermore situated across the street from famous for-profit venue Schlachthof Wiesbaden. And at this very night, the Schlachthof hosted a great LGBTQIA+ party as well as a concert by German Punk Rock veterans Slime, Toxoplasma and Hass. Contentual overlappings like this are always a shame, and they often hurt the DIY venues. Fortunately, many people decided to attend the gig at Kreativfabrik on this day, and hence at 9pm, the show began.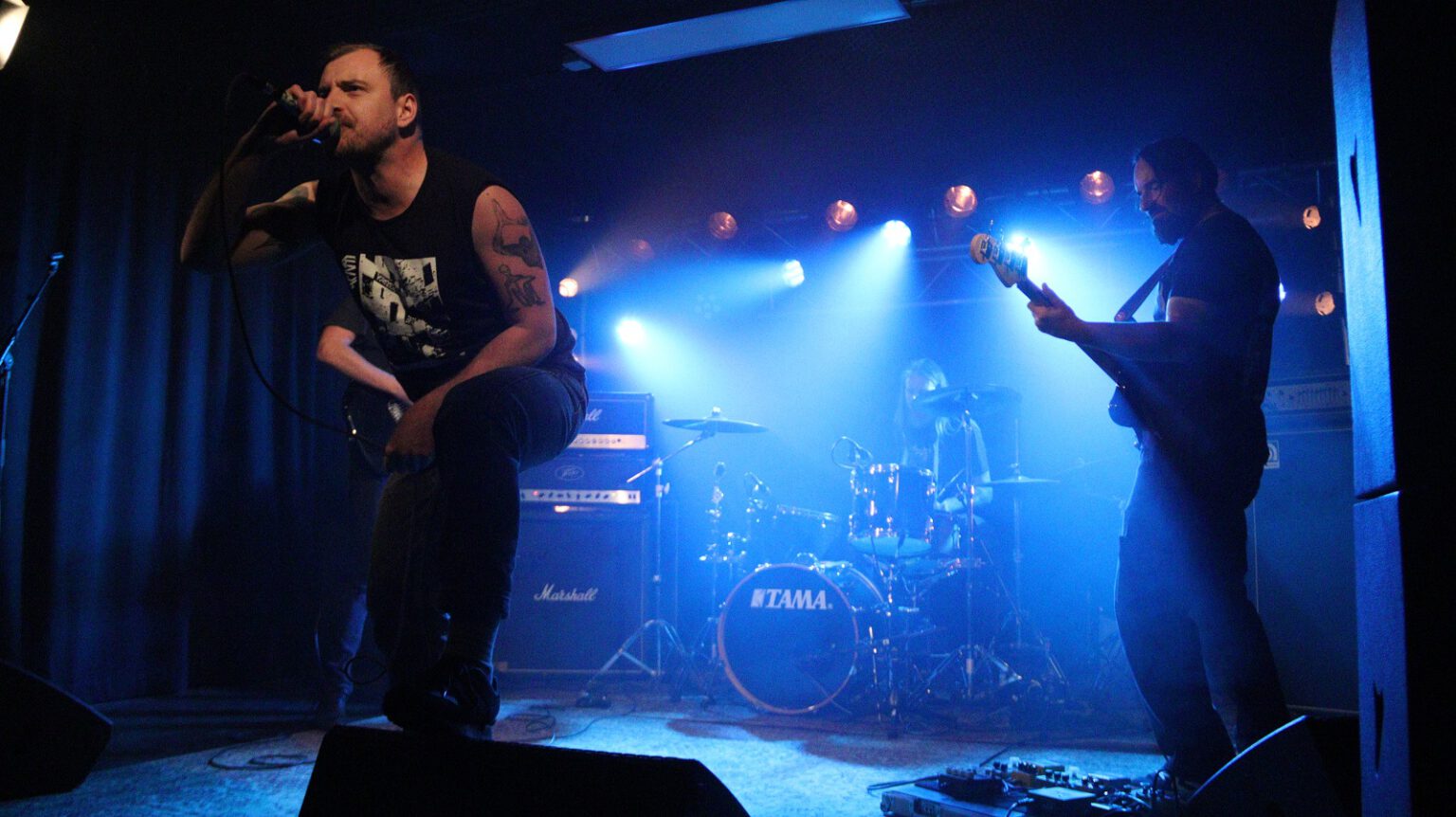 Finsterbusch
With a delay of around thirty minutes, the concert commenced. First band were Finsterbusch from Mainz. It was the second concert ever for the quartet, and they had jumped in the line-up to replace The Heroine Whores only two days before the gig. Their drummer even had tickets for the big concert across the street. But instead of being sad about missing a Toxoplasma show, him and his three comrades provided the audience with thirty minutes of their sound.
Apparently, the four musicians have gained some experience in other bands before. Still, the songs by Finsterbusch were yet very fresh – one of them was not even named by the time of the show. Finsterbusch's style is situated somewhere at the borders between Punk Rock, Crust and Black Metal. Although playing very confidently, the quartet showed that they are still looking for their musical balance. Nevertheless, their show was fun, and their Vorkriegsjugend-meets-Bathory sound enchanted the listeners.
---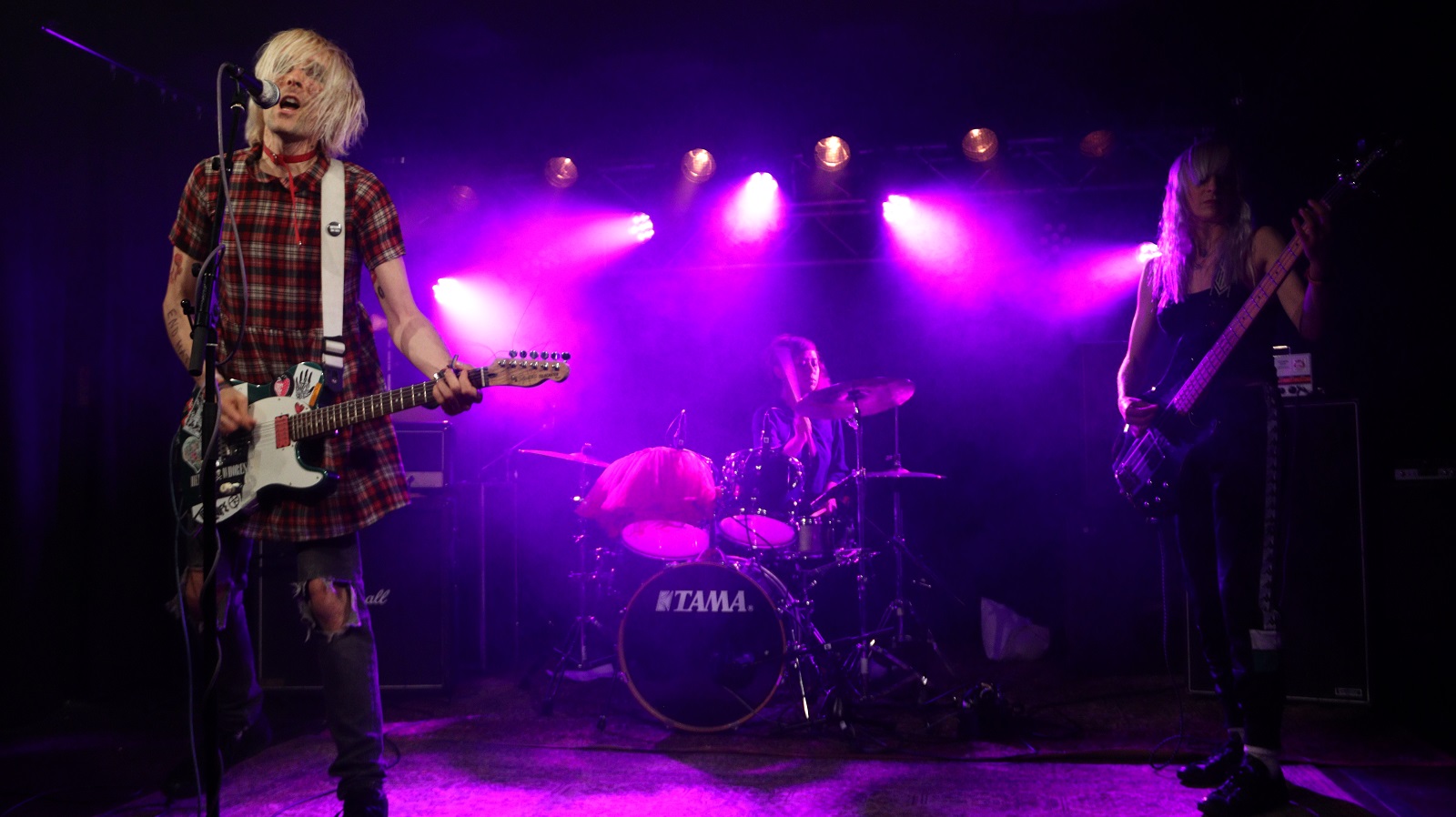 TV Moms
Next up was Brooklyn's Gutter Rock and Grunge trio TV Moms. With Grunge Punk trio The Heroine Whores having dropped out of this night's line-up, TV Moms were the odd one out between two crusty bands. That did not stop them from playing a thrilling and moving show. Technical issues at the beginning of the show were quickly overcome. From then one, the band rushed straight through their setlist. for 45 minutes
TV Moms played with extremes and dichotomies a lot. They were powerful and fragile, loud and calm, colourful and melancholic, emotional and introverted. Between minimalist licks and excessive soli, with gentle whispers on the one hand and intense Noise breakdowns on the other, TV Moms presented much more than just a Grunge Revival. Gutter Rock is here to stay, and this concert was a beautiful display of a scene that is driven by emotion and able to resist likewise.
---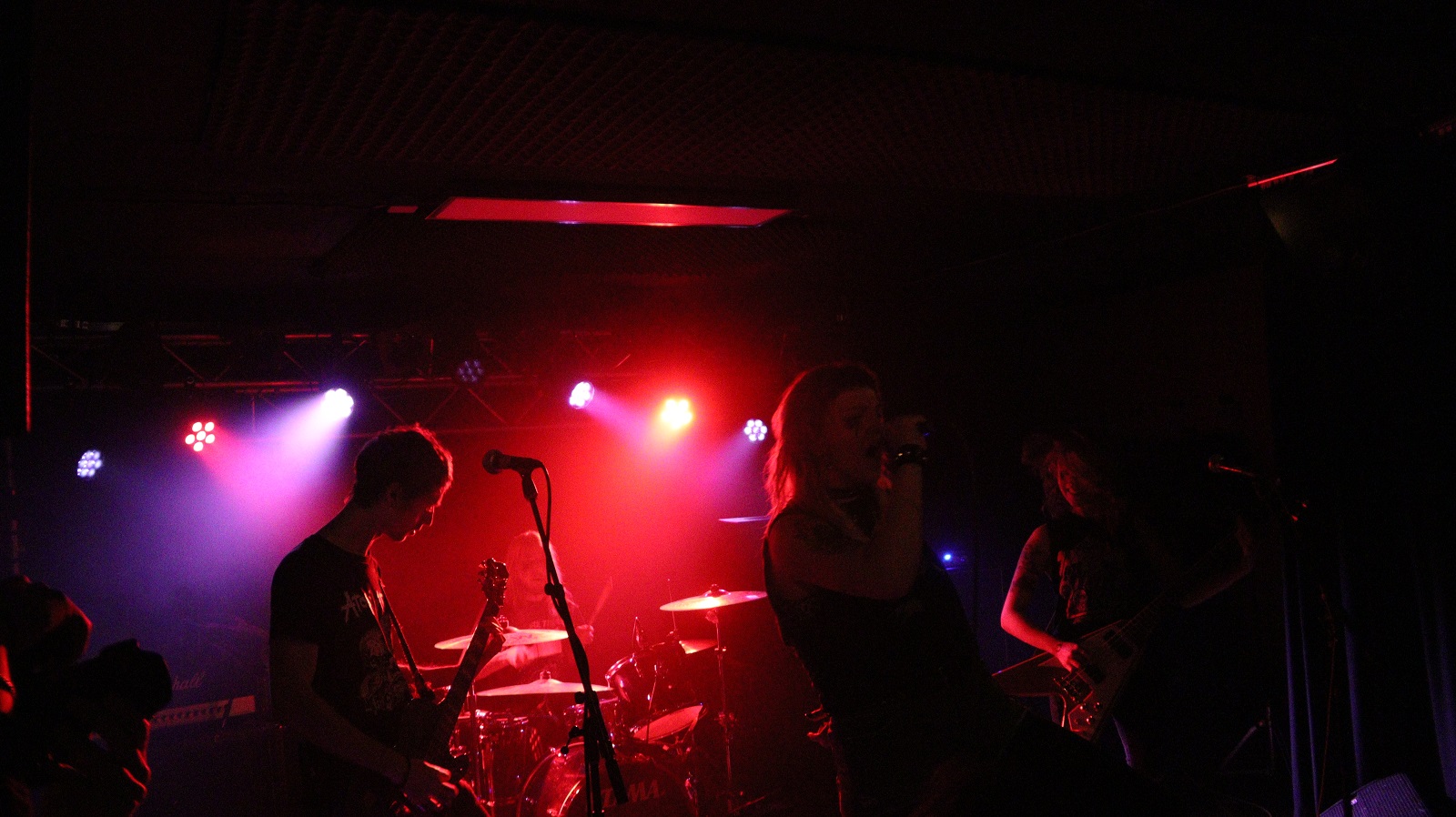 WüT
The day's last hour has fallen, and th headliners entered the stage. WüT from Berlin have not played a role in the cosmos of MangoWave before, but they hopefully will in the future. The quintet from Berlin stands for a new era, for a cultural generation that is fed up with the men's clubs at Punk or Metal shows. WüT were by far the loudest band at that night, and they were the hardest to take photos of. Flashes of light cut through the darkness and fog, and thereby accentuate the soundscape perfectly.
Within less than half an hour, the quintet plowed through the Kreativfabrik. Their Crustcore was spiced with ingredients from Stenchcore, Black Metal, and pent-up anger about centuries of patriarch bullshit. WüT made no prisoners, and after their show, only smoke and rubble were left behind – fantastic!
---
Leaving with a good feeling
The Kreativfabrik and all participants – on stage, in front of it, and around – have helped to make this November 4th a beautiful night. Positivity and hope, solidarity and empathy were in the air. Events like this are so important, especially in times like these. Thank you all!